listen to this whilst reading
Well, the wind is howling outside, the rain is battering at my windows and my housemates
are all out leaving me home alone so I thought I'd do a little post about my new favourite dress.
A few of my dresses including my first Horrockses, eek!
This beautiful little buttercup coloured 50s cotton shirt dress was bought on a complete whim in the last seconds from ebay, in fact I bid on impulse not even really being sure what I was bidding on but gee am I glad I got it! it fits like a glove and was,as ever, a pure steal! and best of all,as soon as I put it on I was reminded of beautiful Betty from A Passionate Woman!
If you haven't seen this amazing program I absolutely insist you instantly stream it, Billie Piper is perfection!
Please can I be Betty dancing with my beautiful boy to Johnny Mathis! I have a Certain Smile on 78" and have been listening to it on repeat since this dress arrived.
*sigh!*
Despite the insanely bad weather at the moment, I was actually really happy with my very messy curls yesterday. I've recently hacked about 4 inches from the bottom of my hair and I'm really pleased with the way it takes curl now. It feels a bit more of a soft 50s set now which I love.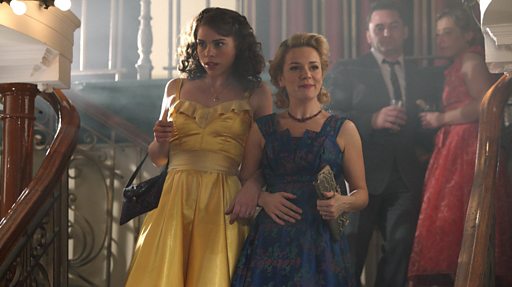 I'm going to settle down into bed now with a cup of tea and re watch this dream and swoon over all of the costumes.....and Betty's squeeze, Craze! such a dreamboat!
Hope you're all staying cosy on this dreary Friday night!
Love Hollie xx