I'm back, finally. It's been a busy couple of weeks again with little to report other than on saturday my beau and I had a day off together with nothing planned, a rarity!
After I faffed around being cross at my wardrobe/hair/face/everything for two hours we got on the bus planning on ending up at spittlefeild market for a vintage fair. En route the bus got stuck in awful traffic and having been on it for a very long sweaty time we decided to give up, get off and see where we ended up. This is when we stumbled across 'the Britain at war Experience' near London Bridge.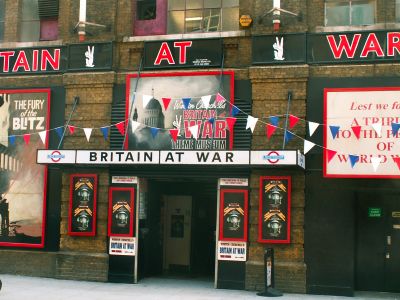 Via
we were unsure if to give it a go or not when we saw the £17.50 entry fee but upon asking for armed forces discount the kind lady let us both in for the bargin price of £7.00 (so many perks to having a soldier for a sweetheart)
1940s Christmas!


Inside the museum everything was a bit old and scruffy and if I'm honest we would of been quite disapointed had we paid £35 entry for us both but it did a certain charm and there were some lovely things on display like this Christmas cabinet which did nothing to calm my already stirring Christmas excitement!
My beau was equally excited when he found this Battle dress in the dressing up section which just so happened to be badged as Royal Engineers! His excitment continued when we found a section dedicated to the R.E, his favourite part was this photo of a sapper who was just 17!!
Of course my favourite bit was the pretend high street which had some beautiful shop windows, I would do awful things to get my hands on these hats! failing that the lovely hat stands would do!
Another 'shop' was displaying dresses which upon seeing,I had to hold myself back with all of my might incase I involuntarily broke through the glass, grabbed them all and ran! Don't they know how cruel it is to display original novelty print rayon and crepe dresses behind glass!! and I wont even start on the parachute silk wedding dress!! so close yet so far!
finally, here is another awkward faced photo to add to my blog collection this time casually posing with old Winston. Its the only one we got of me all day before my phone died. Due to my wardrobe/face/hair fiasco in the morning I chose my most comfortable dress, a homemade 1950s cotton dress in brown check/floral. It is one of the first original pieces I ever bought and really is my fail safe. I teamed it with black belt, cardigan and ballet pumps and my little vintage handbag which was an absolute steal! (especially considering the other day I found a tiny very old mother of pearl hair slide hidden in the pocket!)
anyway, what was suppose to be a quick update has yet again become a very wordy indepth post so I shall leave it there.
what have you all been up to recently?
any fun outings or found any gorgeous vintage gems?
I'd love to hear about anything you'd like to share, I feel like I've been away for forever again!
Love Hollie xx